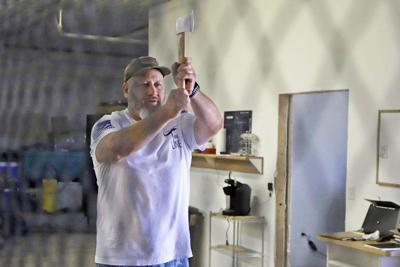 Have you ever played throwing darts at the target? May be you didn't, but have heard of it, right? What if, you have an axe on your hand instead of a dart? Ax throwing is a new sport worldwide, but its practice has grown considerably in San Diego, California. The axe throwing practice consists of throwing an ax at a wooden target from a distance of 3.66 meters. Practice does not require prior experience. 
What is this sport all about?
Although it can be included in the list of original sports, the truth is that ax shooting is more of a skill test in which Californians show their talents. If you stop to look, you will see that Ax Throwing looks like a traditional Basque game. However, the dynamics of the events differ quite a bit from each other. Many fans and curious people decide to test their aim, with more or less fortune depending on their ability. 
This practice has its own sports organizations at the international level: the World Ax Throwing League, with members in 16 countries. It is very recent and there are few who have enough talent to be up to the task, although little by little the rules are shaping up and gaining audience. In fact, there are specialized sports channels that broadcast the matches. In them you can see how this activity has evolved, with approved axes, rules that all players must comply with and certain penalties that can cause them to lose points. 
Does it have any medical benefits?
Well, yes it has. More and more people are playing this game as an anti-stress measure. Throwing axes at a wooden target and tasting a beer in a bar in California, are two concepts that do not go well at first glance. But that can become a real therapy to combat stress with the appropriate security measures. This sport is suitable for anyone who wants to come and have fun or relieve stress after a working day.
Want to play this game?
To begin with, it will be better to practice with a small ax. One thing to keep in mind for axes is that the size and length of the ax shaft will determine how far you have to be from the target for the ax to be able to make a full rotation and stick. Do not throw the ax if there is someone in front of you or picking up the ax on the next track. Don't touch the dividing fences or the target when picking up the ax. Hold the ax firmly, much like how you would hold a hammer. Put both hands on the ax. Bring the ax back, above your head. Bring the ax forward, put your eyes on the prize and release it with your arms extended forward.